Khopra Ridge Trek With Khayer Lake: offbeat Trek in Nepal
"an offbeat route encompassing the best views of Nepal's Annapurna region"
Lying off the beaten path, away from the popular crowded trails of the Annapurna Region, the Khopra Ridge Trek with Khayer Lake Trek offers a Nepal Himalayan experience like no other. With awe-inspiring, close-range views of some of the mighty Himalayan giants like Dhaulagiri (8,167m), Nilgiri (7,061m), Annapurna I (8091m), and Machhapucchre (6,997m), this lesser-trodden route is a mountain lover's paradise. Filled with jaw-dropping mountain views, idyllic villages, high terraced fields, magical sunsets and serene jungle trails, the trail showcases the beauty of Nepal in full glory.
The two main highlights on this trek are :1) an adventurous hike to the sacred, high-altitude Khayer Lake and 2) the stunning ridge walk on Khopra Danda (Ridge in Nepali) during sunrise. The sight of the shimmering snow and ice panorama from the Khopra ridge can rival any viewpoint in the entire Himalayas. The other two breathtaking vantage points that we cover on this trail are Muldai Top and the world-famous Poon Hill. Ideal for experienced hikers as well as fit beginners, this is a moderately challenging trek and demands a good fitness level due to its fair share of ascents and descents. A relatively newly opened trail in this part of the country, the accommodation on the route is in village teahouses managed by the locals who are part of the amazing community-led tourism here. This trip is perfect for anyone looking for an offbeat trekking adventure in Nepal and want to experience some of the best views this mountain country has to offer.
Day 1 : Welcome to Pokhara (2697 feet)
Pre Trek Briefing and Permit work
Overnight stay at Hotel
Day 2 : Drive From Pokhara to Hile (52 Km drive) | Trek Starts: Hile (4,921 ft) – Ulleri (6,578 ft)
2.5 km / 3 hrs Trek Duration
Overnight stay in Ulleri Teahouse
Day 3 : Ulleri – Ghorepani (9,775 ft)
7.5 km trek / 5 hrs Trek Duration
Overnight stay in Ghorepani Teahouse
Day 4 : Ghorepani (9,775 ft) – Poon Hill Top (10,532 ft) – Ghorepani (1 Km walk) | Trek to Swanta (7,786 ft)
4 km trek / 4.5 hrs  Trek Duration
Overnight stay in Swanta Teahouse
Day 5 : Swanta – Sistibung (9,843 ft)
5 km trek / 5-6 hrs Trek Duration
Overnight Stay in Sistibung Teahouse
Day 6 : Sistibung – Khopra Ridge / Khopra Danda (12,581 ft)
3 km trek / 3 hrs Trek Duration
Overnight stay in Khopra Ridge Teahouse
Day 7 : Khopra Ridge – Khayar Lake (15,305 ft) – Back to Khopra Ridge 
8 km trek/8 hrs Trek Duration
Overnight Stay in Khopra Ridge Teahouse
Day 8 : Khopra Ridge – Dobato (11,240 ft)
11 km trek / 7 hrs Trek Duration
Overnight stay in Dobato Teahouse
Day 9 : Dobato to Muldai Top (11,930ft) – 1.5 km – Trek to Ghandruk
12 km / 7 hrs Trek Duration
Drive back to Pokhara and reach by late evening
Overnight stay at Pokhara Hotel
Day 10 : Farewell
Depart for Home or extend a few days at the lovely Pokhara
1. The lesser-known side of Annapurnas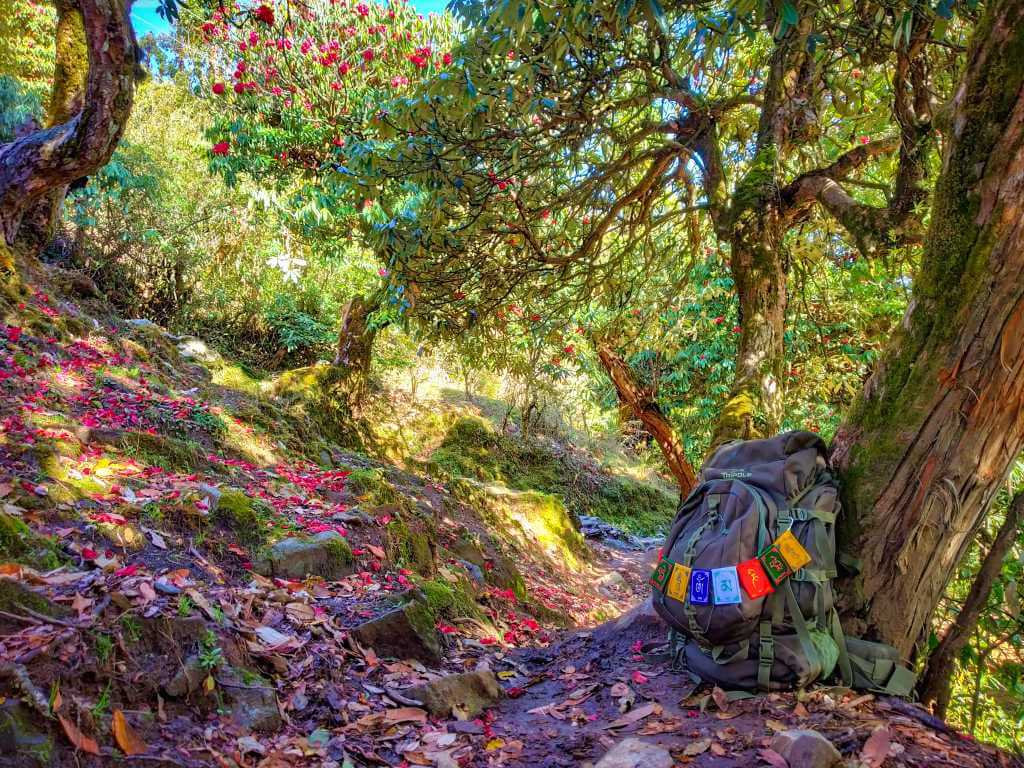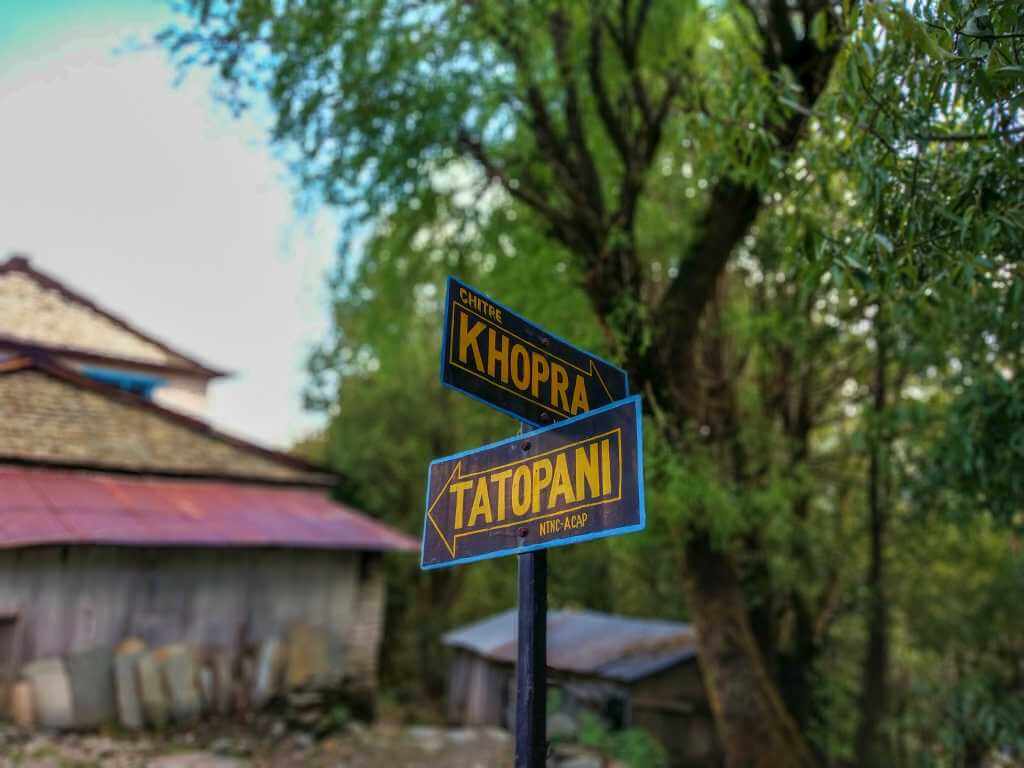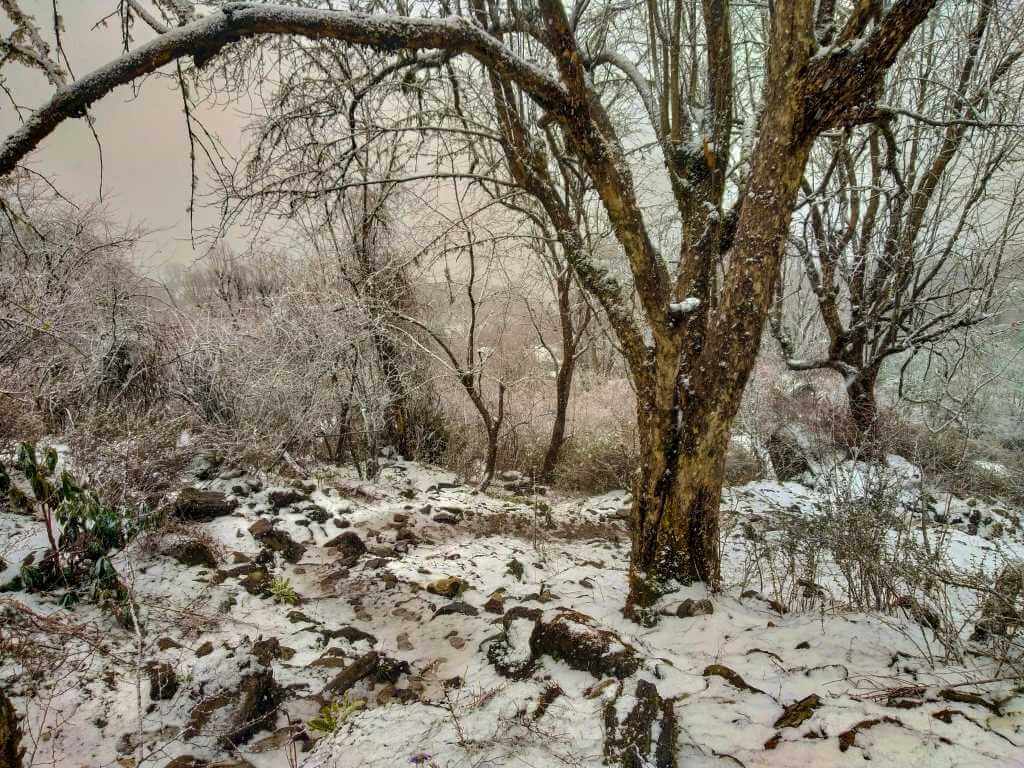 The Khopra Ridge trek (also called the Khopra Danda Trek in Nepali ) takes us to one of the least visited trails in the Annapurna region. The offbeat trek is a great way to explore the Annapurna region while avoiding large crowds. A recently developed and fairly new route in the Annapurna Conservation Area, it offers an unseen and relatively unexplored side of this world-famous region. Compared to other crowded and commercial routes here (like the Ghorepani Trek or the Annapurna Base Camp trek), this one is definitely less-crowded and more peaceful. This therefore makes the Khopra Danda trek an excellent alternative for those who are seeking a peaceful mountain holiday.
Apart from the wonderful views, the journey itself becomes special when travellers get to enjoy the lovely forests, lush grasslands and dreamy village settings along the trail. This lesser-visited side is home to some of the culturally-rich and picturesque villages of the Annapurna foothills. The area mainly houses the Gurung and Magar settlements with their impressive terraced fields sculpted on the hillsides. The pristine trail also passes through dense Rhododendron forests which turn into a riot of colours during the spring season (March-April).
2. Teahouses and Community-run Lodges
The Khopra Ridge trek is a blend of majestic peak views and a unique cultural ambiance. The stays on this route are a mix of local homestays and typical Nepalese-style teahouses. Some of the stays on the route are small community-run lodges which ensure tourism incomes remain and is used within the community. This is quite unique to this trail and the region compared to other popular trekking areas of Nepal. Tea houses in Nepal are common mountain huts along the various trekking routes here. They offer basic lodging and meals and usually come with communal and warm dining areas.
Considering the remoteness of these high-altitude places, the facilities and amenities in most of these accommodations are quite basic but cozy and comfortable. Staying in these village teahouses and community lodges is a splendid opportunity for visitors to experience the authentic local culture. Travellers get a taste of traditional life in these remote highlands and rural areas along with unique insights into the indigenous mountain communities here. Along with sharing their enticing culture and daily lifestyles, the local hospitality and meaningful interactions are memorable and enjoyable. The stays also offer a great way to contribute by benefiting entire village communities and uplifting the local rural economy.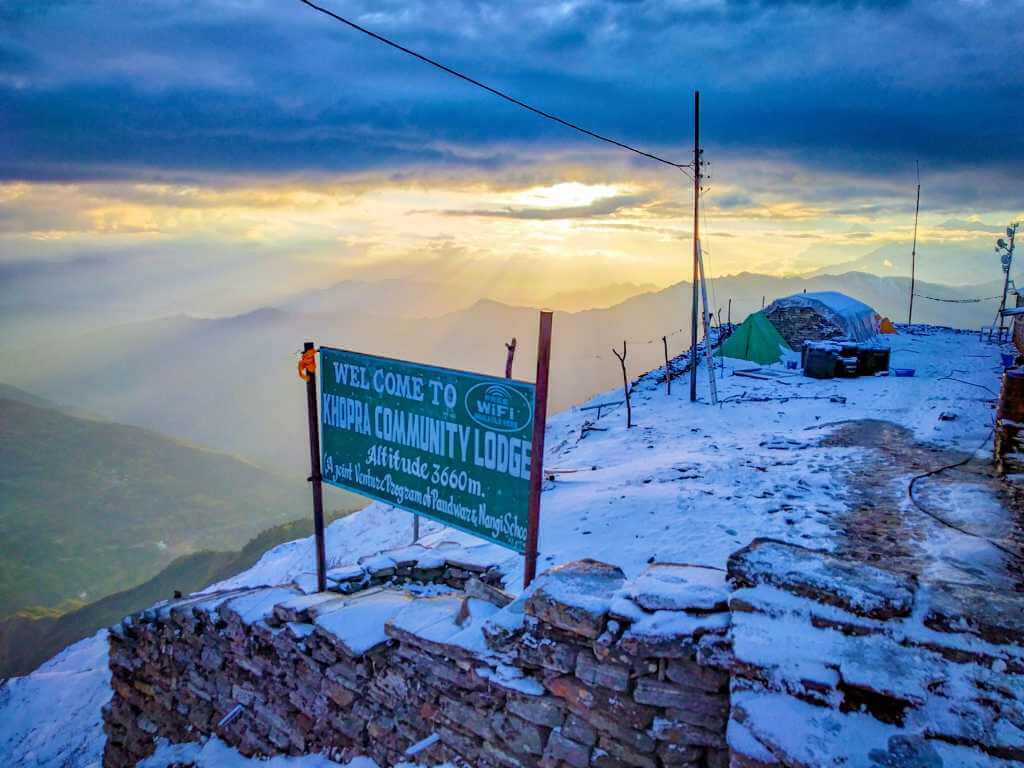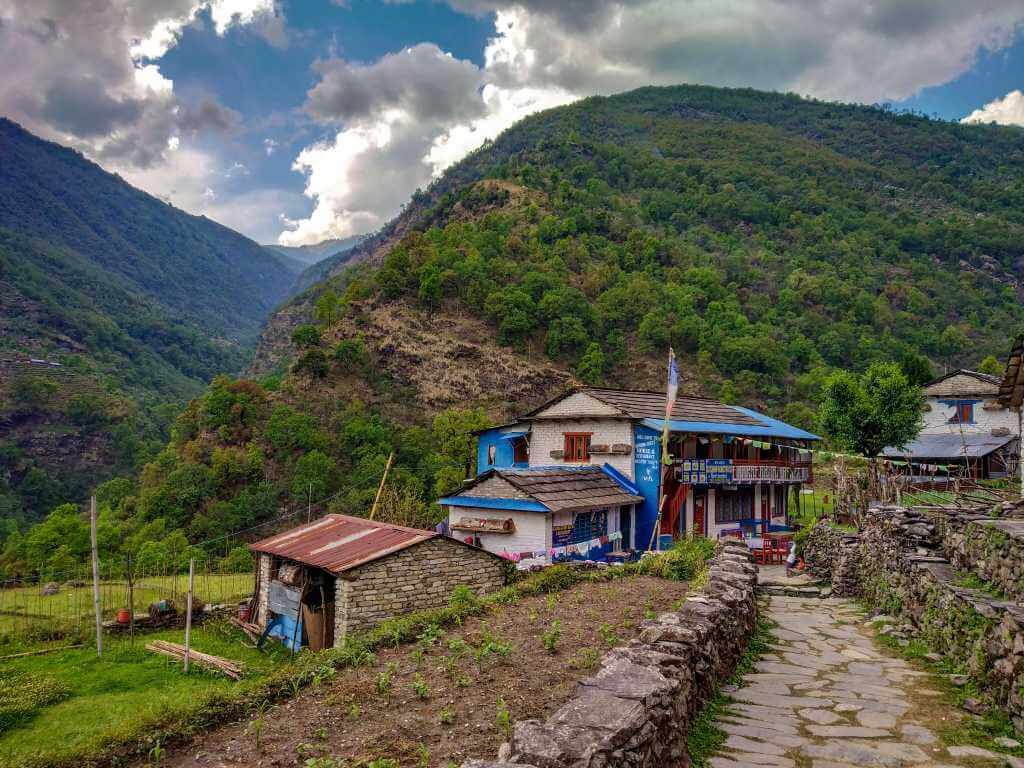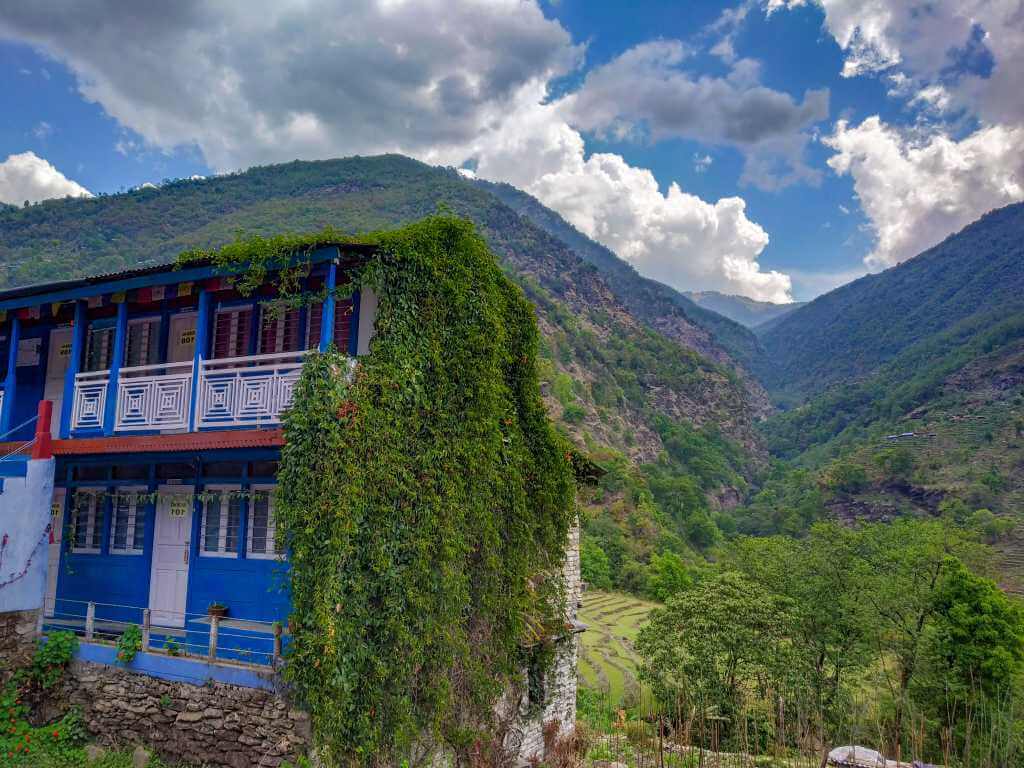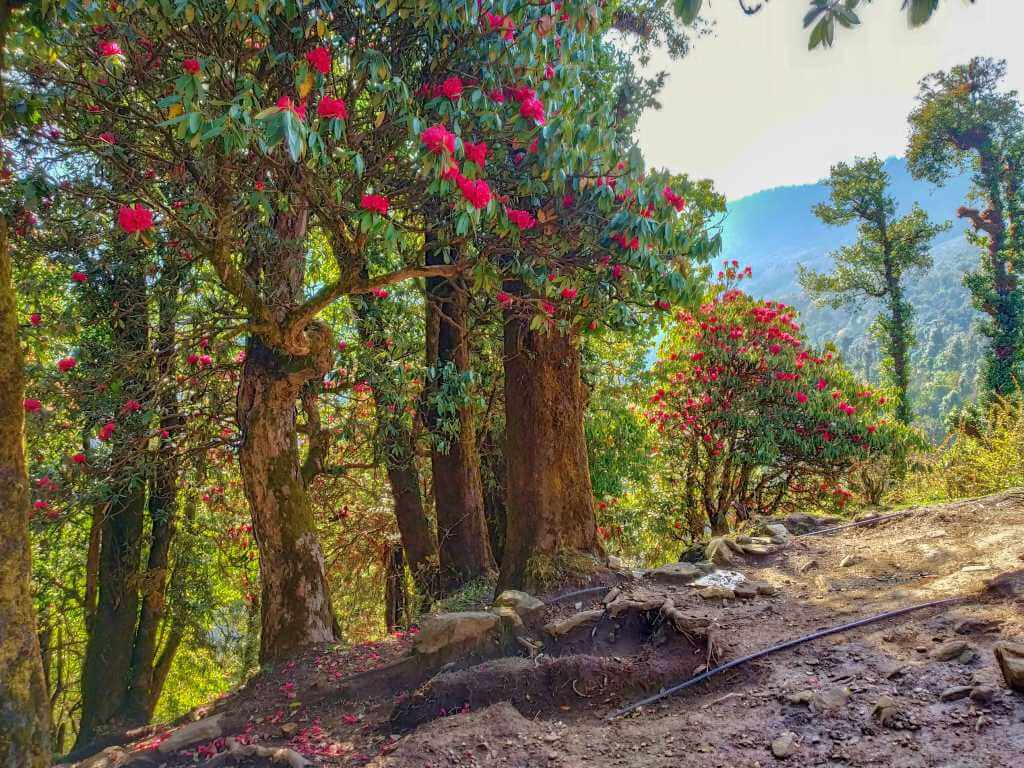 3. Unmatched Vantage Points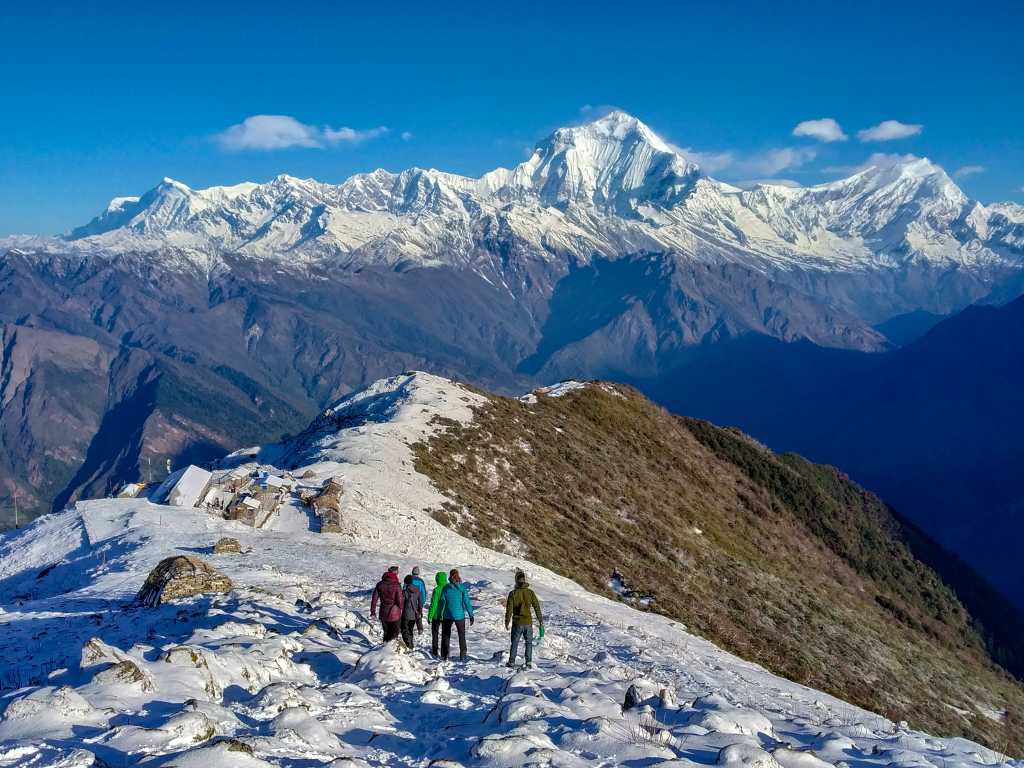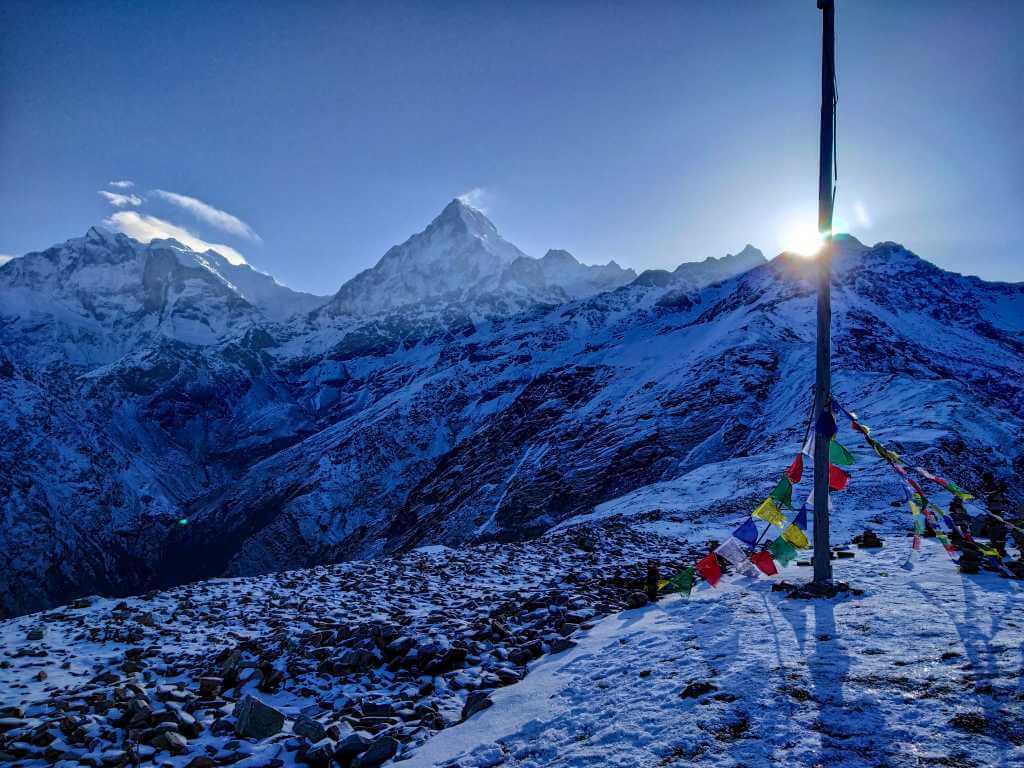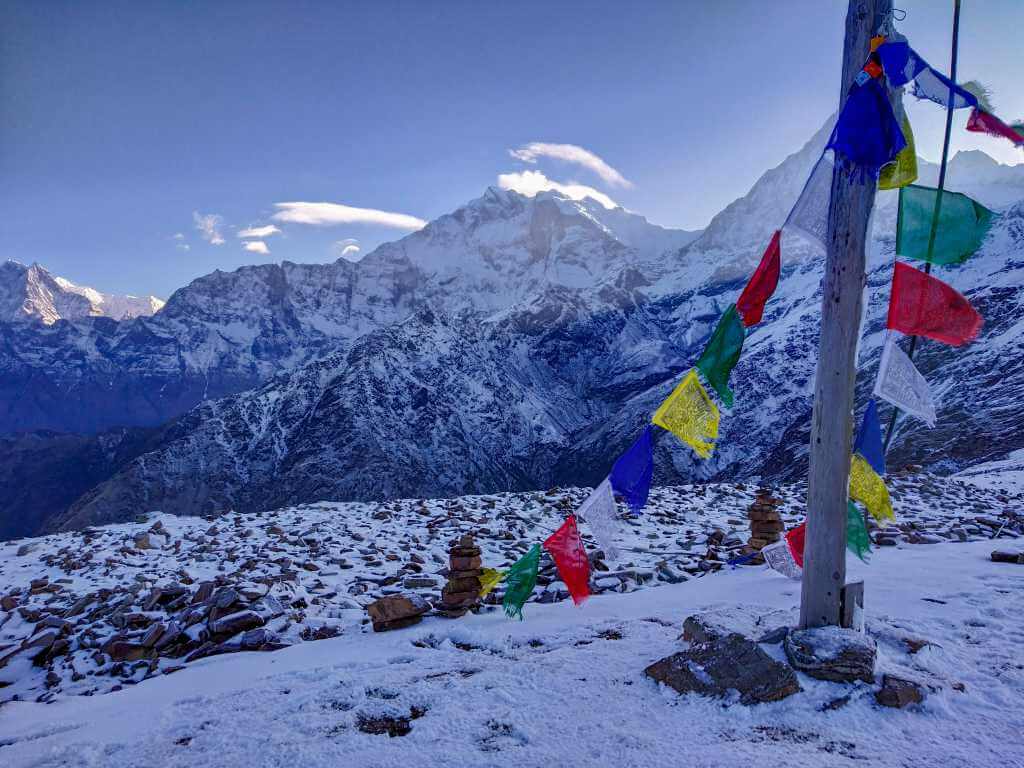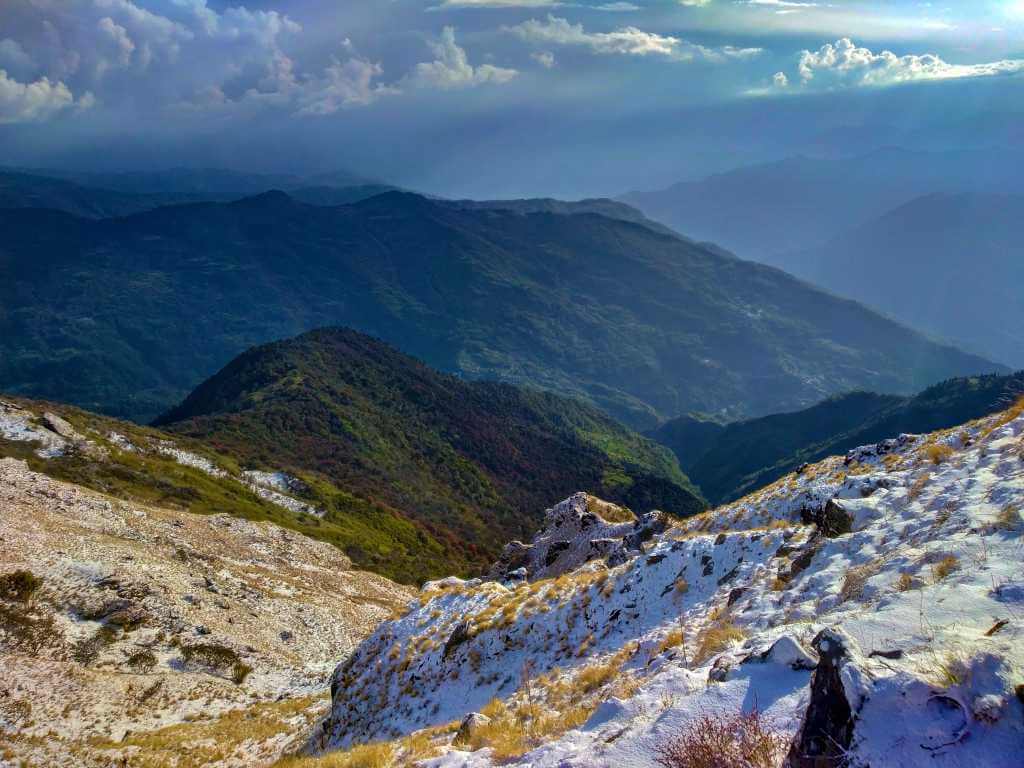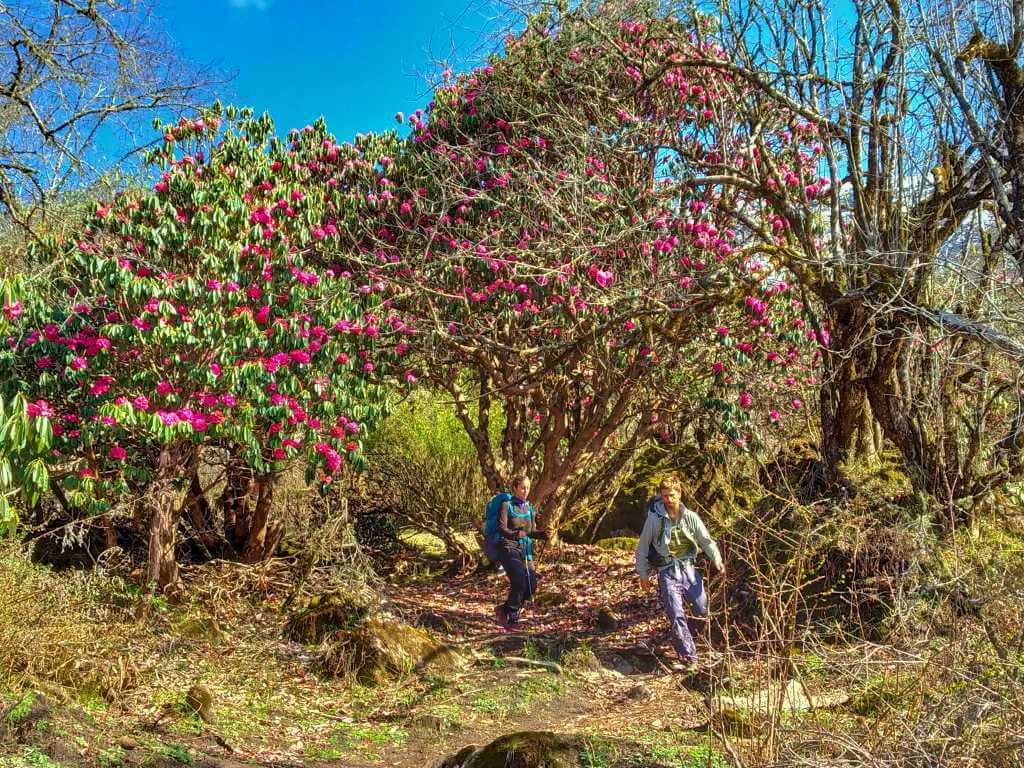 Our curated route for the Khopra Ridge Trek offers some of the best close-distance mountain views in Nepal. Unlike the commonly taken path, we carefully designed a clockwise loop-hiking route with handpicked village stays. Spectacular landscapes, deepest gorges and few of the highest mountains on earth give us company throughout the trail. Some of the snow-capped peaks that are visible on this trekking route include Mt. Dhaulagiri (8167m), Nilgiri (7061m), Bharha Shikhar (7647m), Annapurna I (8091m), Annapurna South (7219m), Annapurna II (7937m), Annapurna IV, (7525m) Mt Himchuli (6434m), Machhapuchhre (6997m), Gangapurna (7455m) and many others.
From Poon Hill to Mulde/Muldai Top to Khopra Danda (Nepali for Khopra Ridge), these breathtaking viewpoints offer magnificent sunrise and sunset views of snow-capped mountains like nowhere else. Here, the twilight hours simply turn magical. The ridge walk on Khopra Danda offers an exceptional panorama of peaks. It is an unforgettable experience for a trekker during sunrise. The views become even more captivating when the valleys down below get blanketed by clouds with giant mountains spearing through them and towering above.
Along with the spellbinding views of Himalayan mountains, the Khopra Ridge Trek also offers an awesome excursion to a lake. The Khayer Lake is a hidden alpine lake located at an altitude of 15305 feet above sea level. With spiritual cleansing properties according to the locals, it is a small holy lake considered sacred for both the Hindus and Buddhists of the region. 
The freshwater, high-altitude lake, located deep amidst Annapurna mountain ranges is an adventurous hike from the Khopra Danda area. It can be reached by a day trek and is suitable for well-prepared trekkers and adventure lovers. The lake is the highest point of our trip and this hike beautifully adds on to the thrill of the entire Khopra Ridge experience.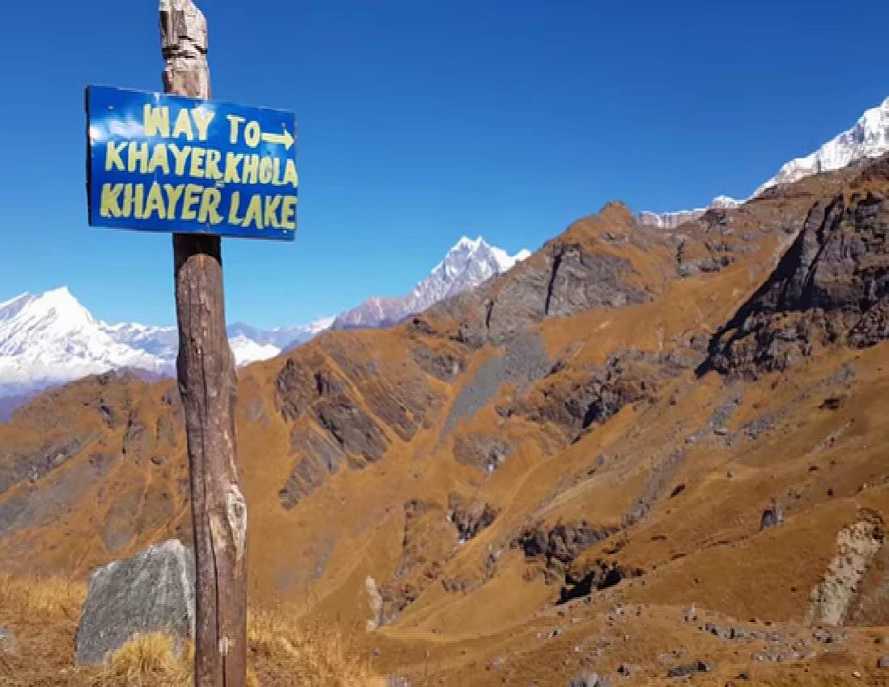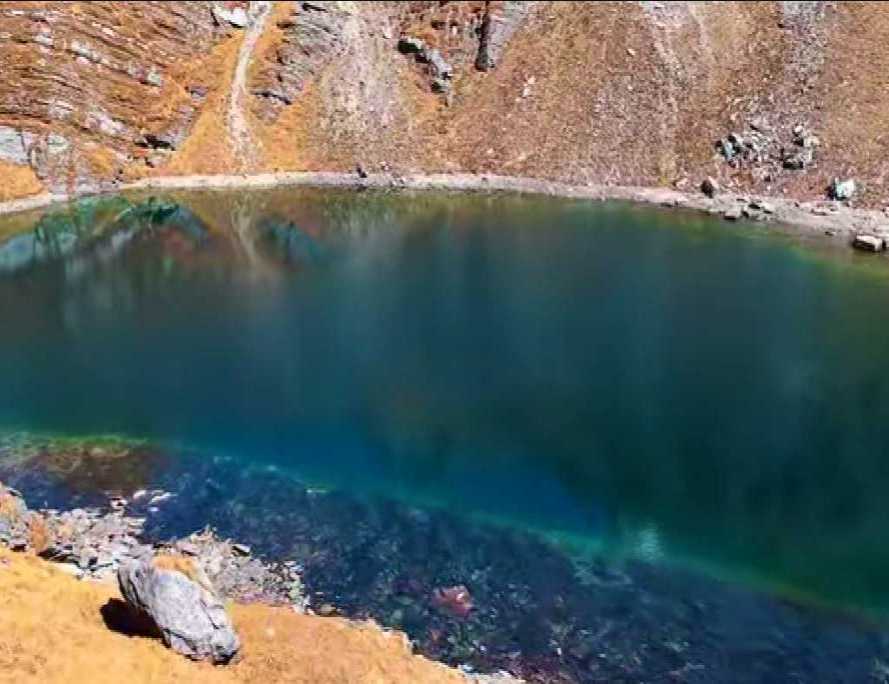 For Trip Booking, Costs and More Details, Please Contact Us:
A personalized itinerary can be crafted based on your group's interests, expectations, and preferred dates and time duration. For tailoring a suitable Khopra Ridge, Pokhara or Nepal Trip Experience plan just for you, please call/whatsapp +91 8951064013 or mail at contact@ekaxp.in