Chadar Trek 2023: The Frozen River Experience
"a local annual odyssey that turned into the wildest trek for adventurers"
In the heart of winter, as the cold icy winds blow and the temperature plummets in ladakh, a unique natural phenomenon takes places – the mighty Zanskar river freezes forming a 'Chadar' or a thick layer of ice on it. The Chadar Trek in Ladakh is this unique experience of walking on the frozen Zanskar while tracing a centuries-old, ancient Ladakhi route. Also called as the 'World's Wildest Trek', this enchanting adventure in sub-zero temperatures takes you through a steep gorge surrounded by some of the most desolate landscapes over an unforgettable five-day period. From dramatic natural settings, mysterious caves and frozen waterfalls to the unusual campsites and use of snow-sledges, the frozen river trek in Ladakh is an unparalleled adventure to remember. Suitable for physically fit and experienced trekkers, this challenging trail also gives a fascinating glimpse into the harsh Zanskari life in the winters. Join this trip for a transformative experience of a lifetime!
Day 1: Arrival at Leh – Pick up from Airport
Check in to your hotel | Rest and Acclimatize
Overnight at Leh Hotel in your centrally heated rooms
Day 2: Rest, Acclimatization and Briefing
Curated Sightseeing in and around Leh
Final Preparation and Team Briefing
Overnight at Leh Hotel in your centrally heated rooms
Day 3: Medical Tests and Insurance Day in Leh
Fitness and Medical tests as per regulations
Obtaining permits and completing insurance formalities
Overnight at Leh Hotel in your centrally heated rooms
Day 4: Treking Starts: Leh – Shingra Koma – Tso Mo Paldar
Drive from Leh to Shingra Koma (75 kms / 3-4 hrs)
Trek from Shingra Koma to Tso Mo Paldar (10500 ft)
Trek 3 Km / 2-3 hrs
Day 5: Tso Mo Paldar to Tibb
Trek from Tso Mo Paldar to Tibb Cave (10950 ft)
Trek 14 Km / 6-7 hrs
Day 6: Tibb to Nerak waterfall
Trek from Tibb Cave to Nerak Frozen Waterfall (11100 ft)
Trek 13 Km / 6-7 hrs
Day 7: Nerak to Tibb
Trek from Nerak to Tibb cave (10950 ft)
Trek 13 Km / 6-7 hrs
Day 8: Last day of Trek: Tibb – Shingra Koma – Leh
Trek from Tibb to Shingra Koma (17 Km / 6-7 hrs)
Drive from Shingra Koma to Leh (75 Km / 3-4 hrs)
Day 9: Farewell from Ladakh
Drop off at Airport – Depart from Leh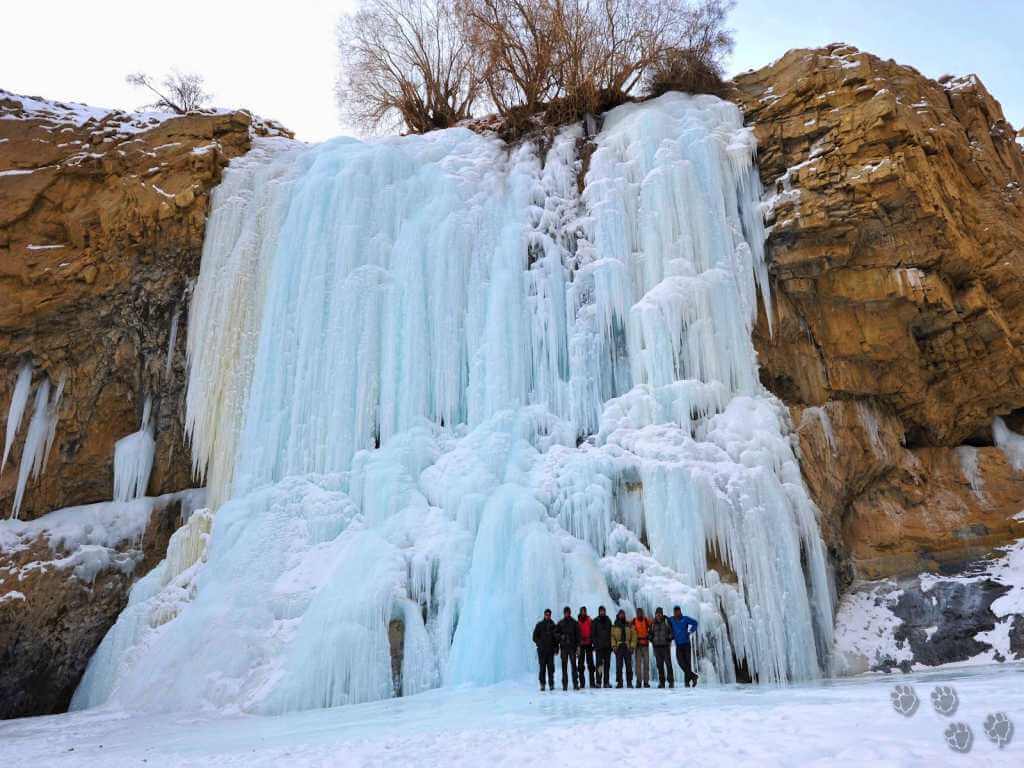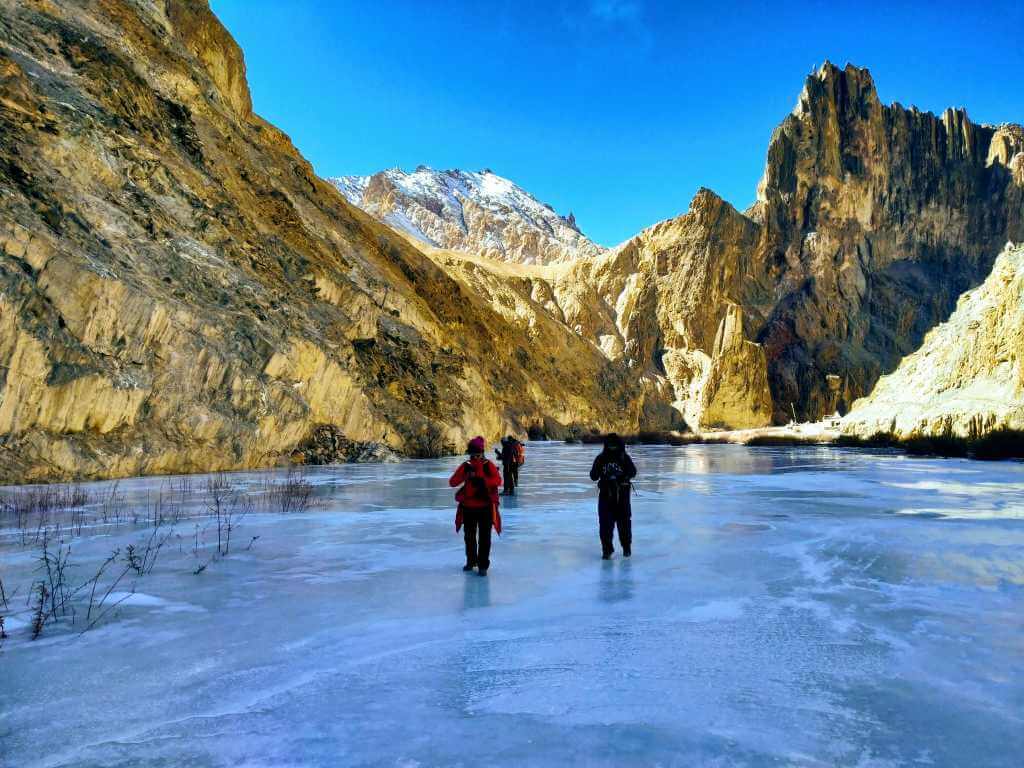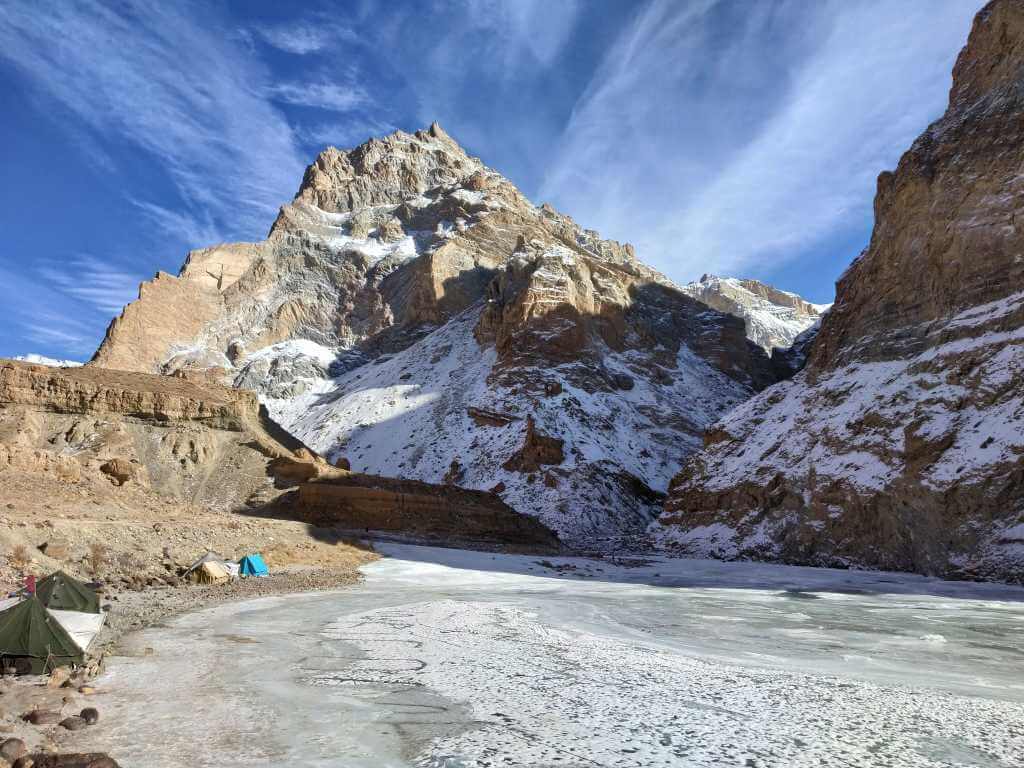 Called as the 'World's Wildest Trek', the Chadar Trek in India is one of the most unique and fascinating treks in the world. During the winter season, the Zanskar river freezes and a beautiful ice sheet (Chadar) covers the meandering river. This provides adventure seekers an amazing opportunity and a very brief window to walk on the frozen river in subzero temperatures. Trekkers walk along the Zanskar gorge surrounded by towering ridges and formidable peaks and covering some of the most stunning sights.
What sets the Chadar trek experience truly apart is the combined package of its unique natural elements – the frozen river, the captivating backdrops and sceneries; the harsh, record-breaking sub-zero temperatures; interesting ice formations as well as crystal-clear blue waters in places; use of gumboots and snow-sledges; the unusual campsites, mysterious caves and towering frozen waterfalls. 
Overall, the Chadar trek in Ladakh is a walk like no other. It is one of those rare adventures that must be enjoyed at least once on our lifetimes. The natural beauty of the places covered coupled with the thrill of walking on ice makes it one of the most interesting and unique trekking experiences in the country.
2. A transformative experience
The Chadar Trek is an exhilarating hike that involves navigating a tricky terrain – traversing ice sheets, snowy boulders and riverbank paths. The changing patterns and formations of the Chadar add to the trek's thrill element. In places where the ice sheet does not form properly, travellers have to forge new trails to navigate the route. 
Due to the unpredictability of the trail's conditions, extreme temperatures and the remoteness of the area, the Chadar trek in India is graded as a strenuous and a difficult trek. However, the challenge of going through and completing the entire experience in a safe and ecologically responsible way, ultimately makes all the effort so much worth it. The trek teleports us out of our physical and mental comfort zones, putting us in an unfamiliar setting and then testing our limits. Developing self-awareness, teamwork and a sense of resilience, persistence and perseverence, it is truly a transformative experience for any individual.
This winter trail also offers a peek into the lives and the unique culture of the local communities. We get to witness the Zanskaris' difficult and demanding lifestyle in winters and understand their way of living in one of the most uninhabitable regions in the world. The frozen river trek is therefore also an extremely humbling experience for all travellers.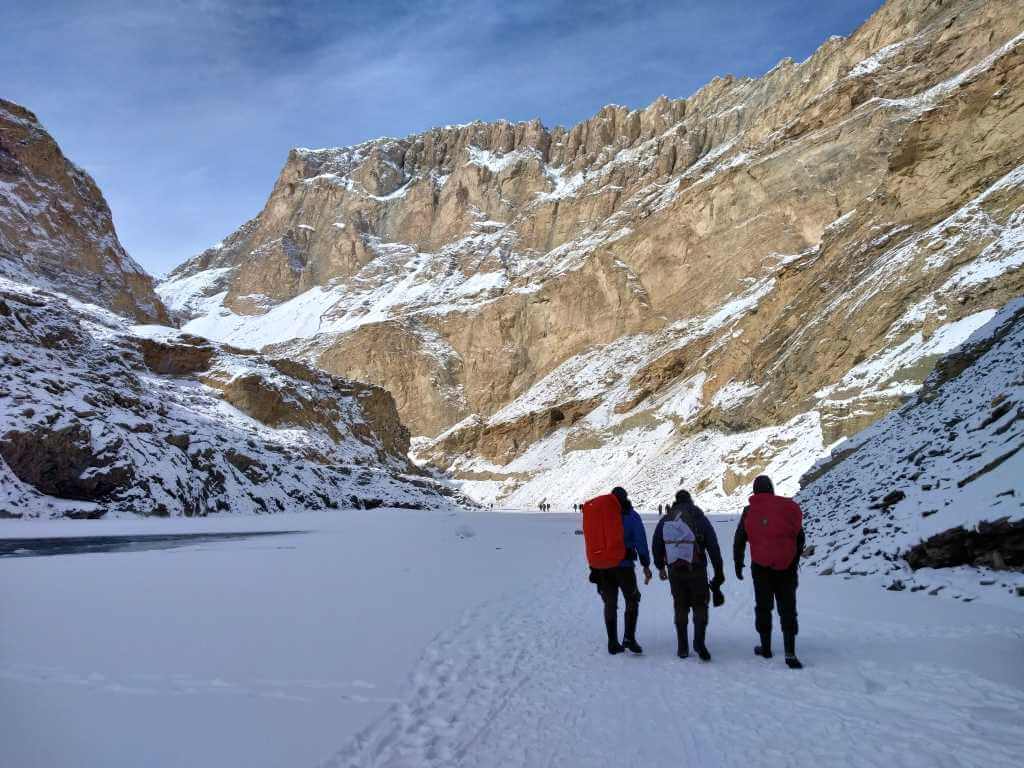 3. A traditional route for centuries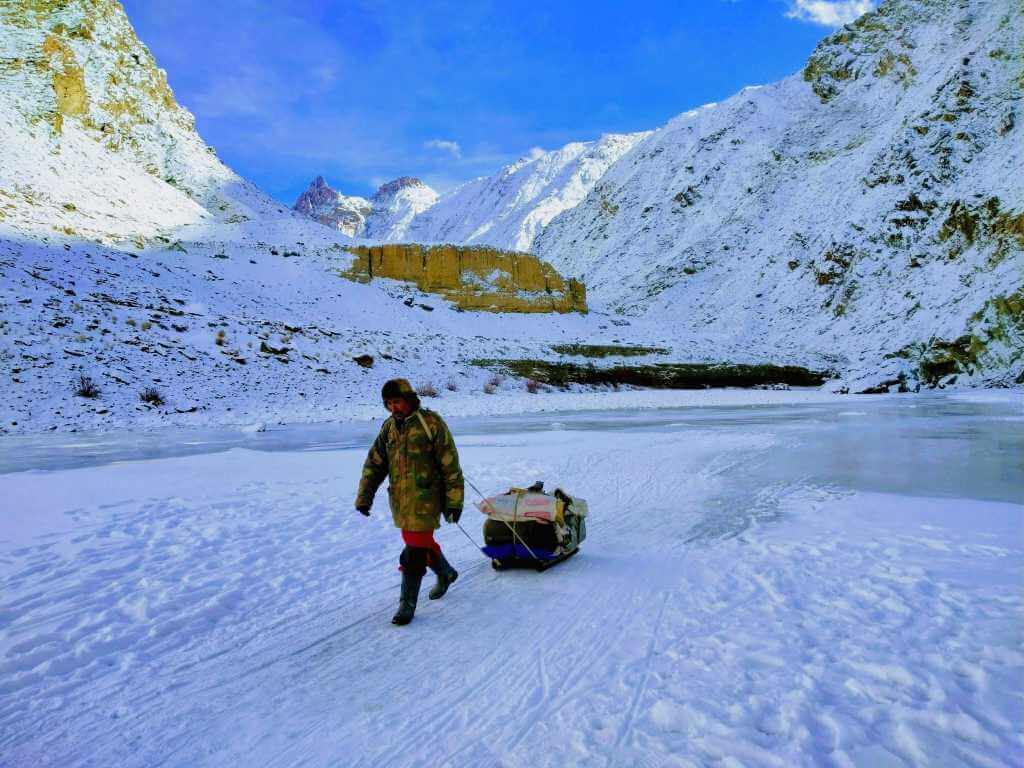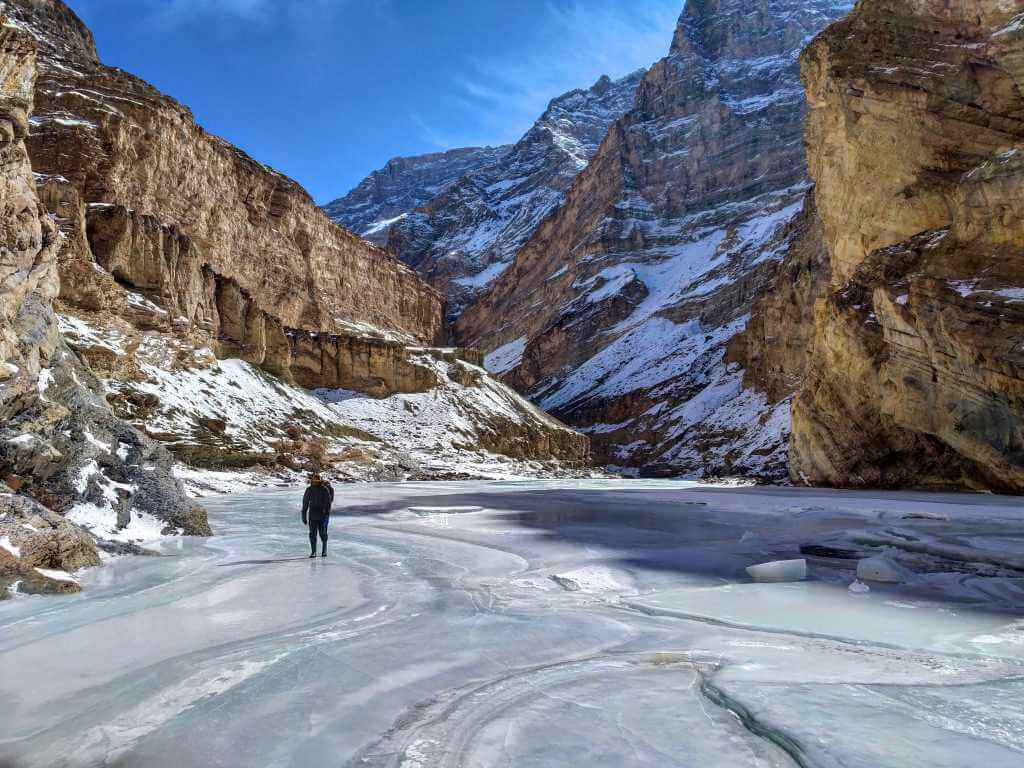 The Chadar Trek is not an adventure or a means of recreation for the local Zanskari and Ladakhi people. For them, it is an important journey undertaken out of necessity. For a thousand years, local Zanskaris have embarked on it to ensure their own survival! 
Surrounded by high mountains, Zanskar is a secluded region inhabiting one of India's oldest indigenous populations, the Zanskaris, who hail froman intriguing mix of Tibetan and Indo-European origins. The turn of winter sees this remote region get completely cut off from the rest of India for large parts of the year due to snowfall. Most of the high road passes become blocked and inaccessible.
Hundred of years ago, the local discovered an amazing natural phenomenon on the mighty Zanskar river itself, that eventually became their only winter pathway. In the heart of winter, as the cold icy winds blow and the temperature plummets, the Zanskar river freezes forming a thick layer of ice of it. Over many centuries, walking on this frozen river thus became a lifeline for these indegenous communities who used it for their much-needed access route to the outside world. Dragging primitive, indigenously-built sledges loaded with trading items, supplies, and sleeping in riverside caves around open fires, the Zanskaris have been undertaking this ancient annual crossing for many years and it is claimed that the route may have been a part of the ancient Silk road in winters. The Chadar trek therefore traces a historical trail that provides a fascinating glimpse into an integral part of the Zanskaris' ancient history & cultural heritage.
For Trip Booking, Costs and More Details, Please Contact Us:
A personalized itinerary can be crafted based on your group's interests, expectations, and preferred dates and time duration. For tailoring a suitable Chadar Trek 2023 , Ladakh and Zanskar plan just for you, please Call/Whatsapp on +91 8951064013 or mail us at contact@ekaxp.in